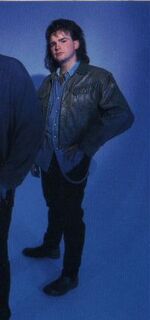 Ronny Cates (born September 25, 1965) is an American producer, songwriter, musician and bassist. He was the bassist of Petra from 1988 to 1996.
Biography
Edit
Ronny Cates was born September 25, 1965 in Shreveport, Louisiana. Cates went to Caddo Parish Magnet High School in his hometown, where he was involved in the jazz band. This helped him develop his music skills during his youth. After graduating in 1983, he started playing with several people.
Cates joined Petra in 1988, during the recording of the album On Fire!. During his time with the band, they won three Grammy Awards and nine Dove Awards. Cates personally, was voted as "Favorite Bass Player" for five consecutive years by the readers of CCM Magazine.
After 8 years with the band, Cates decided to leave the band. During that time, he recorded six albums with the band. During his last years, he was involved in the songwriting process along with band's founder and main songwriter Bob Hartman.
After Petra
Edit
Shortly after leaving Petra, Cates contributed with John Schlitt in his two solo albums. After that, like fellow Petra alum John Lawry, Cates dedicated himself to record engineering and producing. He began working at Mirror Image Studios in Gainesville, Florida, where he worked with several established artists.
Cates also served on the Board of Governors for the Florida Chapter of The Recording Academy, the organization best known for The Grammy Awards. During his tenure, he was voted First Vice President of The Florida Chapter for two terms in office.
Cates has also filled in occasionally during some Petra's live shows. In 2015, Cates rejoined Schlitt, Hartman, Lawry, and Louie Weaver during a live performance in CCM United. The band played "I Am on the Rock".
Album credits
Edit
Songwriting credits
Edit
External links
Edit
Ad blocker interference detected!
Wikia is a free-to-use site that makes money from advertising. We have a modified experience for viewers using ad blockers

Wikia is not accessible if you've made further modifications. Remove the custom ad blocker rule(s) and the page will load as expected.