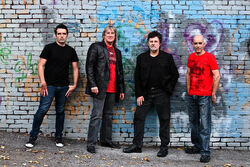 Petra is an American rock musical band considered as one of the pioneers in Christian rock and Contemporary Christian music. Formed in 1972, the band went through 33 years of musical career, officially disbanding in 2006. However, since then, several incarnations of Petra have played reunion shows through the years as well as recording albums. The band returned from retirement in 2013 to celebrate its 40th Anniversary.
The name Petra comes from the Greek word for "rock".
Discography
Edit
Classic Petra
Band members
Edit
External links
Edit
Ad blocker interference detected!
Wikia is a free-to-use site that makes money from advertising. We have a modified experience for viewers using ad blockers

Wikia is not accessible if you've made further modifications. Remove the custom ad blocker rule(s) and the page will load as expected.